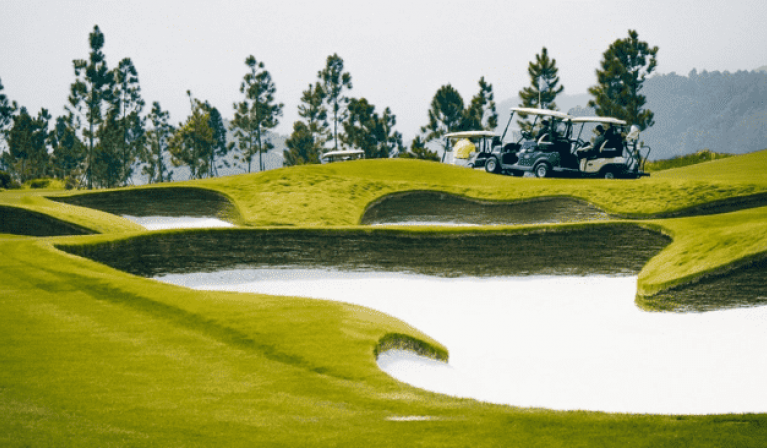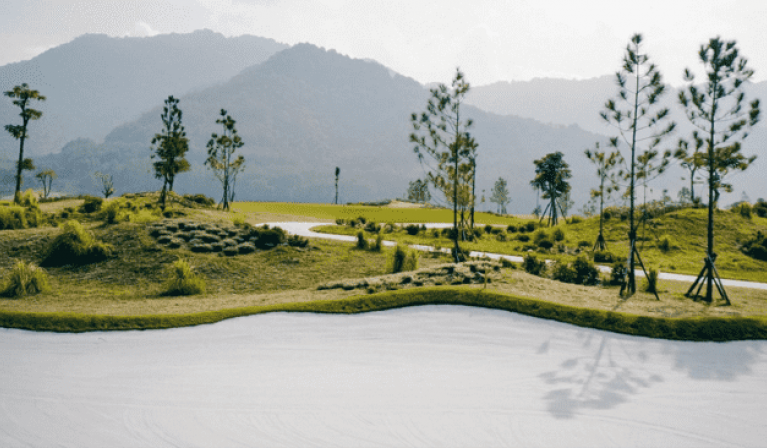 Thanh Lanh Valley Golf & Resort
Thanh Lanh Golf Course – Thanh Lanh Valley Golf & Resort is located on Thanh Lanh lake south of Tam Dao mountain range in Trung My commune, Binh Xuyen district, Vinh Phuc province, more than 60Km from Hanoi center.
Thanh Lanh Golf Course owns a feng shui land location: in front is a 3.5km2 wide lake, surrounded by valleys and small hills with an altitude of about 100m, gathered at the foot of Tam Dao mountain, trees. lush, calm waves and very good dragons.
Characteristic:
Thanh Lanh golf course has a standard 18-hole design spanning a total area of 73 hectares, a total course length of 7000 yards divided into 5 separate tee boxes to suit the level and needs of golfers at many different levels. . It can be said that this is a rather special golf course in the form of a links golf course but has the style of hills, valleys and lakes.
The landscape of Thanh Lanh golf course is considered to have extremely good characteristics in terms of feng shui. The yard is located in the south of Tam Dao range, right next to Thanh Lanh lake with an area of 3.5km2. Surrounding Thanh Lanh golf course are small hills with an average height of about 100m, turning this place into an isolated space with a peaceful atmosphere, and the lush green of trees. When coming to this place, visitors have the opportunity to enjoy the whispering wind from each Tam Dao country and the very fresh atmosphere.
The design of Thanh Lanh golf course is characterized by a harmonious combination of nature and humanitarian works. In the course of the course design, the elements of natural beauty are always fully exploited, while upgrading every detail to bring the perfect experience to the players.
Utilities:
The Club Building is considered the most prominent restoration work at Thanh Lanh golf course. Clubhouse building was built like a castle with luxurious European style. From the front, players can enjoy a panoramic view of Thanh Lanh golf course. The inside of the Club building includes the following forms of convenient services:
Front desk: luxurious and equally cozy space to welcome customers.
Proshop tool shop: Providing golf equipment, accessories and tools with extremely diverse product categories and models from world famous brands.
Restaurant space with a capacity of up to 400 guests.
Locker area: Modern design, luxury fully equipped, separate male and female. Here, golfers can sauna, steam bath, use jacuzzi.
Rest space for customers is divided into many separate areas such as coffee area, wine cellar, cigar area, VIP private room, etc.
Behind the club building is a system of villas, resort villas for customers wishing to stay or serve long-term golf tours.
Besides, the caddy team at Serena Valley Golf Resort & Club is one of the impressive highlights that makes golfers unforgettable. Caddy at Thanh Lanh golf course with exquisite and luxurious costumes, extremely knowledgeable and experienced, is ready to support players during the process of using the golf service here.
Readmore...

Course Facilities:
estaurant, proshop, food service, sauna, wine cellar, cigar area, VIP private room
Teetimes: Thanh Lanh Valley Golf & Resort on
30/09/2023